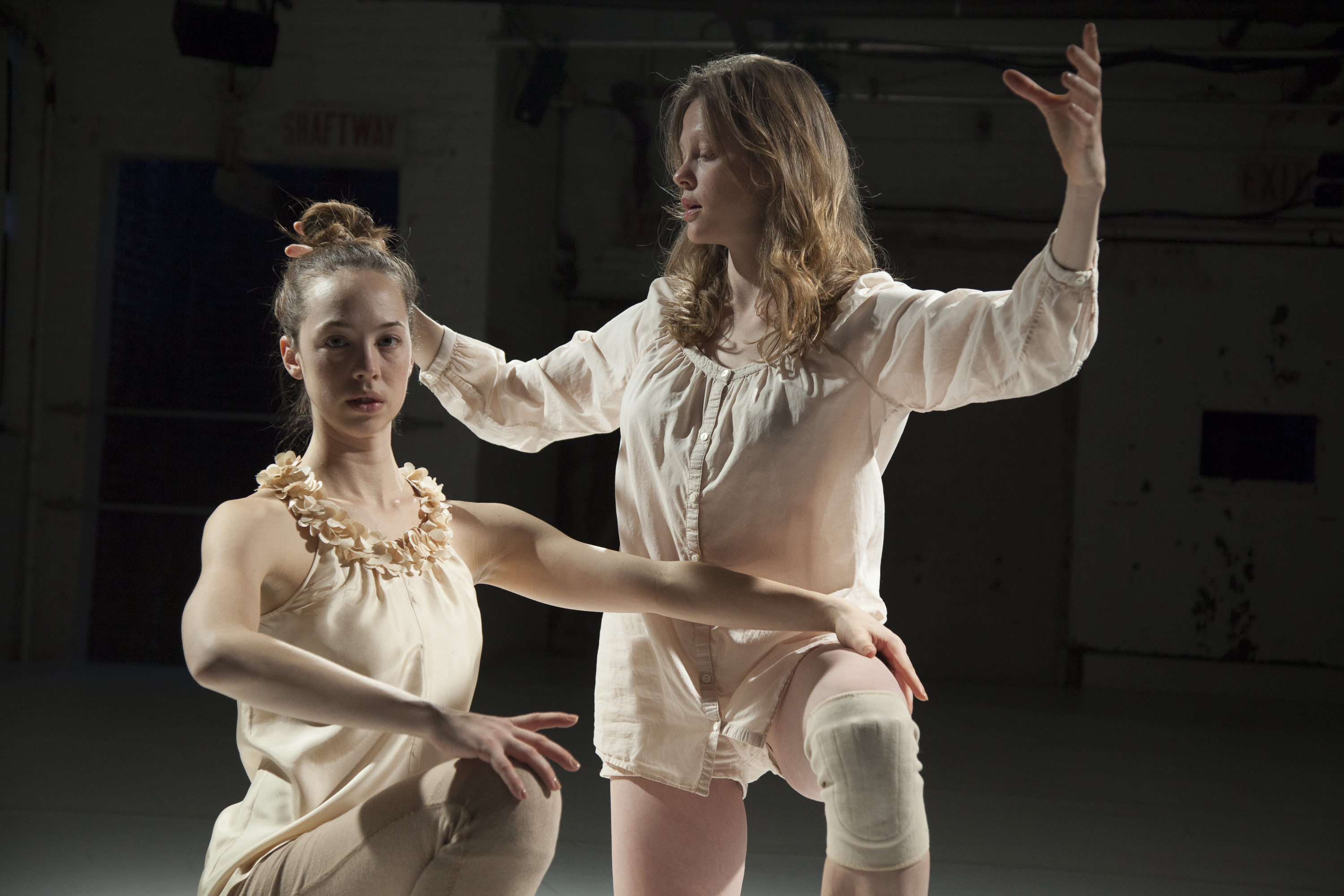 Self Made Man Man Made Land (2013)
with Abby Block and Kohji Setoh
A kinesthetic duet.
An abstract work that is not wholly abstract. Figurative moments flicker throughout.
Louise Bourgeois is a point of reference.
This piece begins where Eagly left off with Group Dynamics and Visual Sensitivity. Both works demands a highly attuned viewer, but Self Made Man begins with the assumption of this ideal viewer (rather than with a warm-up that creates an ideal state of viewing, as in Group Dynamics). The piece is composed from movement language that Eagly has been investigating for years—contorted and fluid, awkward and elegant, spasmodic and languid. Ball-and-socket joints hone a disjointed, disconnected body.
The composition requires the audience to look closely at similarities and differences between Eagly and Block, who share a pronounced energetic likeness. At times the two are clones, at times two versions of the same person, at times two different people.
The structure of this dance mirrors that of its title. It is almost a palindrome, almost the same forwards and backwards, but does in fact change and develop. It invites audiences to look more closely, for shifts of form that beget shifts of meaning.
WRITING
53rd State Press Dance Pamphlet #1
IDIOM Magazine—Christine Shan Shan Hou
Time Out New York
VIDEO
Excerpt #1
Self Made Man Man Made Land was co-commissioned by Mount Tremper Arts and The Chocolate Factory Theater. Additional commissioning support is provided by the Mertz Gilmore Foundation. The Mount Tremper Arts engagement was supported by the Japan Foundation through the Performing Arts JAPAN program and by the Foundation for Contemporary Arts' Emergency Grant Program. The Chocolate Factory engagement is made possible (in part) by the Queens Council on the Arts with public funds from the New York City Department of Cultural Affairs in partnership with the City Council. This work was rehearsed at the Mark Morris Dance Center, among other places.
The Chocolate Factory engagement featured lighting design by Elliott Jenetopulos.
This work was performed at the 2013 Wherever Whenever Festival (Tokyo); the 2014 Locomotion Festival (Skopje, Macedonia); and Laboratorio Arte Alameda (Mexico City).
It was also the subject of an experiment in authorship, in which it was remade by Jamie Boyle, as part of a Food for Thought program at Danspace Project, and by the Danish choreographer My Lindblad, as part of the 2013 NOT Festival in Copenhagen, Denmark.
PHOTOGRAPH by Anja Hitzenberger